Soft strawberries cake with soft fruit jam
A soft dought simil to a sponge cake with a layer of wild berries jam and a lot of tasty strawberries.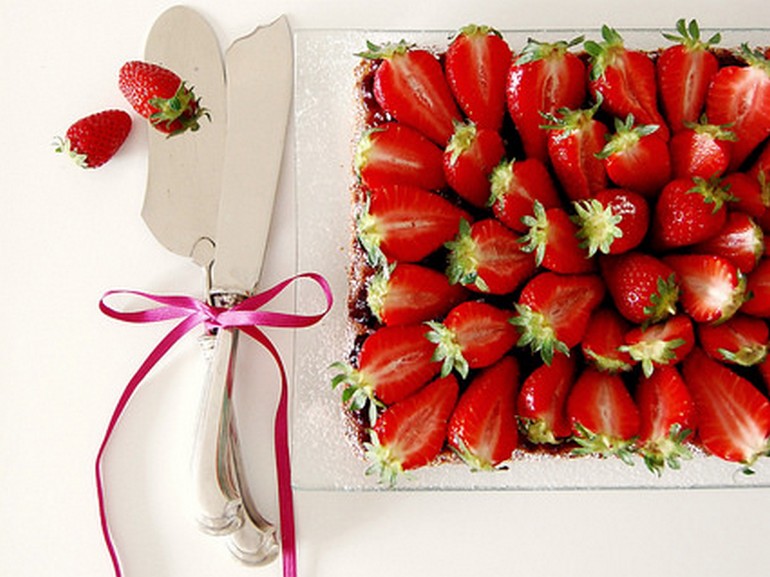 Ingredients
---
Soft cake:
- 250gr flour
- 8 gr baking powder
- 175 gr soft butter
- 175 g sugar
- 3 big eggs
- 125 gr milk
- 2 tablespoons of soft fruit jam Vis
- 1 pinch of salt

To complete:
- 700 gr juicy strawberries
- soft fruit jam Vis
- icing sugar
- 4 tablespoons of coconut
Preparation
---
Preheat oven at 180 ° C.

Prepare the soft cake: whip the butter with the sugar until it becomes light and fluffy, add the eggs one by one always beating with electric whips. Add jam and milk. Finally add little by little, the flour mixed with baking powder and salt.

Pour the mixture into a rectangular baking pan greased and "floured" with the coconut and cook for about 30 minutes. Remove from the oven and let cool and place it on serving tray.

Spread the cake with a generous layer of jam and sprinkle with the remaining coconut. Wash the strawberries and cut them in half. Arrange them on the cake, sprinkle with icing sugar and serve.