Tart with hazelnuts flour and redcurrant jam
The cake prepared with hazelnut flour is perfect with our redcurrant jam. In addition the cream and multi-coloured sprinkles give at the cake the typical look of carneval days.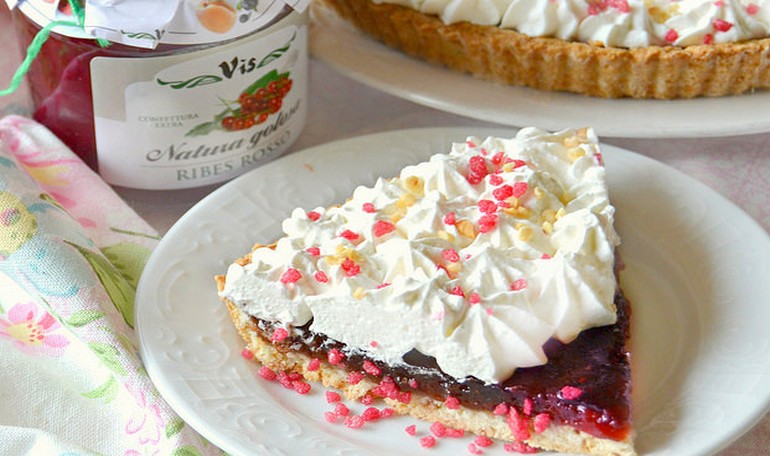 Ingredients
---
- 250g flour type 00
- 100g butter
- 50g hazelnuts flour
- 120g icing sugar
- 1 egg
- 1 vanilla bean
- 1g salt
In addition:
- 1 jar of redcurrant "Natura Golosa" jam
- 200 ml cream
- hazelnuts grain
- multi-coloured sprinkles
Preparation
---
Pour in a kitchen robot the flour and the butter cut in pieces. Mix for 20 seconds, then add the icing sugar, the salt and the hazelnuts flour.
Add the bean of vanilla and the egg. Mix all until you obtain a crumbles dough. Put the dough over a working table and mix energically unitil you obtain a soft pastry, give it a rectangular form, wrap it into a food film and store in fridge for 1 hour.
Spread the dough into a cake-tin previously buttered. Spread over the tart the jam and cook it in a pre-heated oven to 180°C for about 20/25 minutes.
In the meantimes whip the cream and put it in fridge. Take out the tart of the oven and let it cold. Puor the cream over the jam and decore the tart with hazelnuts grain and multi-coloured sprinkles.