Tasty and biscuits fragrant biscuits typical of Christmas time.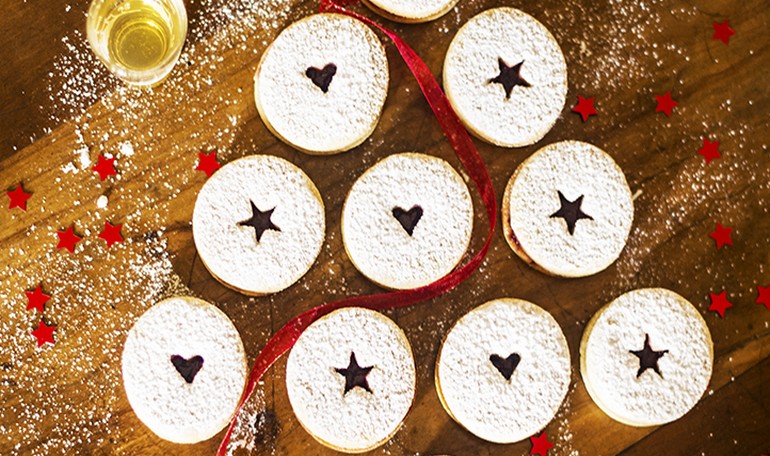 Ingredients
---
- 280g flour
- 75g nuts
- 115g cold butter cut in pieces
- 50g sugar
- 2 spoons of icing sugar
- 1 big egg
- vanilla aroma
- a pinch of powdred cinnamon
- a pinch of salt
- 1/2 tea-spoon of yeast
- "Natura Golosa" sour cherries jam
- for sprinkle: icing sugar
Preparation
---
Mince the nuts with the icing sugar, the salt and the cinnamon. In a bowl work the butter with the egg, until you obtain a frothy dough, the add the vanilla aroma and the egg. Add the flour and the mixture of nuts. Work the dough, wrap it into a food-film and store in fridge.
Spread the dough (thickness about 3 mm) over a previously floured working table. Using a biscuits cutter cut the biscuits. Take the half of them and make a little hole in the middle.
Dispose the biscuts over a baking tray and cook them in a pre-heated oven to 190° for about 8-10 minutes. Let them cold, then spread a spoon of jam over the biscuits with the hole in the middle, and then close everyone with a biscuit with the hole. Sprinkle all with icing sugar.