Muffin choux with strawberries jam
These soft sweets have the form of muffins but are prepared with the choux pastry and they have a tasty filling of cream of strawberries jam and cow ricotta.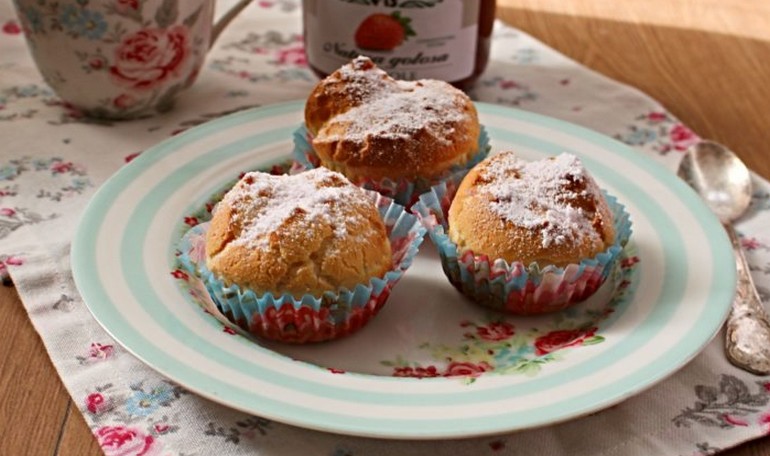 Ingredients
---
- 75g flour 00
- 50g butter
- 100 ml water
- tea-spoon of sugar
- 2 eggs
- a pinch of salt
For stuffing:
- 200g cow ricotta
- 4 spoons of strawberries "Natura Golosa" jam
Preparation
---
Prepare the choux pastry about 12 hours before. Put a saucepan over the fire and pour into it the water, a pinch of salt, the sugar and the butter. Let it boil and remove from the fire. Now add the flour and mix energically to avoid the formation of lumps. Put the saucepan over the fire and cook the mixture until it comes away from the sides of the pot. Let it cold and then add then eggs (one at a time), mix the cream until you obtain homogeneous dough. Pour it in a sac-à-poche with round spout and use it to fill 12 muffin cups, previously covered with the appropriate baking paper. Cook them in a pre-heated oven to 180° for about 25 minutes and then store them for about 12 hours.
Prepare the cream: mix the jam with the drained ricotta.
Using a straw make two hole in opposite sides of every muffin and using a sac-à-poche fill every muffin with the cream. Sprinkle them with icing sugar and serve.