Sacher with bitter chocolate
It is the chocolate sweet most famous and prepared in the world, but its original recipe is protect as a strict secret in the Sacher Hotel in Vienna. The inventor of this cake was in the 1832 a young confectionar called Franz Sacher, from which it takes its name.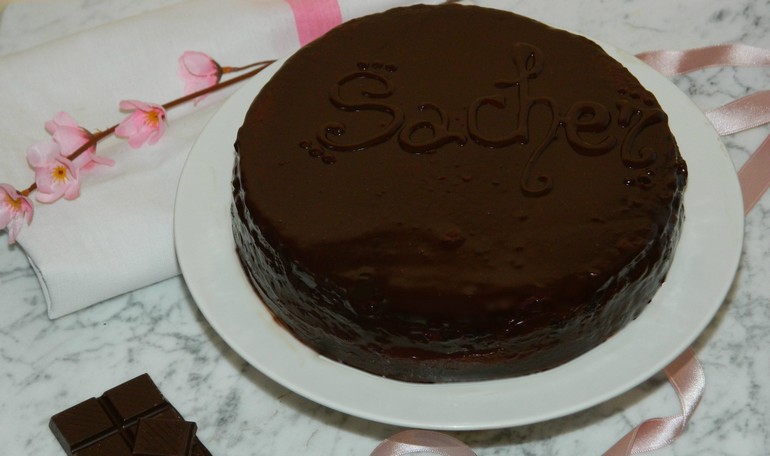 Ingredients
---
Ingredients for a da 20 cm:
- 90g flour 00
- 130g sugar
- 3 eggs
- 90g butter
- 10g honey
- 1 pinch of salt
- 125g bitter chocolate
Ingredients for the cholcate custard:
- 125g milk
- 125g cream
- 50g bitter chocolate
- 3 yolks
- 60g sugar
- 10g flour type 00
- 10g corn starch
- aroma of vanilla
For the stuffing
- 1 jar of wild berries jam
For garnish:
- 100g bitter chocolate
- 100g cream
Preparation
---
Prepare the base of the cake: for the first melt the chocolate in bain-marie then let it cool. Then, in a bowl, mix the butter previously cut in pieces, with the half of the sugar and the honey. When you obtain a frothy mixture, add the melted chocolate and the yolks. Whip the albumens with the remain sugar, then add this mixture to the dough, being careful to blend delicately in the sam way from downwards to upwards. Add the flour.
Pour the dough into a cake-tin (diameter: 20cm) previously buttered and floured. Cook in a pre-heated oven to 170°C for 40 minutes. Prick with a toothpick to see if the sweet is cooked. Let it cool and then divide it in 3 disks. Prepare the chocolate crust and let it cool. Spread the chocolate crust in the fist layer and in the second the wild berries jam. Put the cake in fridge.
Prepare the garnish: boil the cream and then add the minced bitter chocolate. Mix all unitl the chocolate are melted. Let it cool and then use it to cover the cake. Store in fridge.